New Delhi, August 2, 2022: Heartfulness in association with AICTE and UNESCO-MGIEP as its knowledge partner is bringing International 'Rising with Kindness' Youth Summit at Kanha Shanti Vanam – Heartfulness Headquarters in the outskirts of Hyderabad between 12th -14th August 2022. The summit already is attracting over 10,000 attendees to be present onsite and several times more virtually in the three-day event at the Kanha Shanti Vanam as eminent international thought-leaders in Kindness, celebrity artists and performers, youth influencers and other inspirational figures join the summit and concert. The event is being organized in a hybrid mode with the goal to help the youth delegates aged between 18 and 35 develop a 'Kindness Statement', showcase their kindness projects and share their kindness stories. All delegates will be offered certificates of participation issued by the Heartfulness Institute, while a few select 'Kindness Champions' shall be invited to join the 'World Youth Kindness Conference', in November 2022. A few might also have the chance to have their stories featured by UNESCO MGIEP.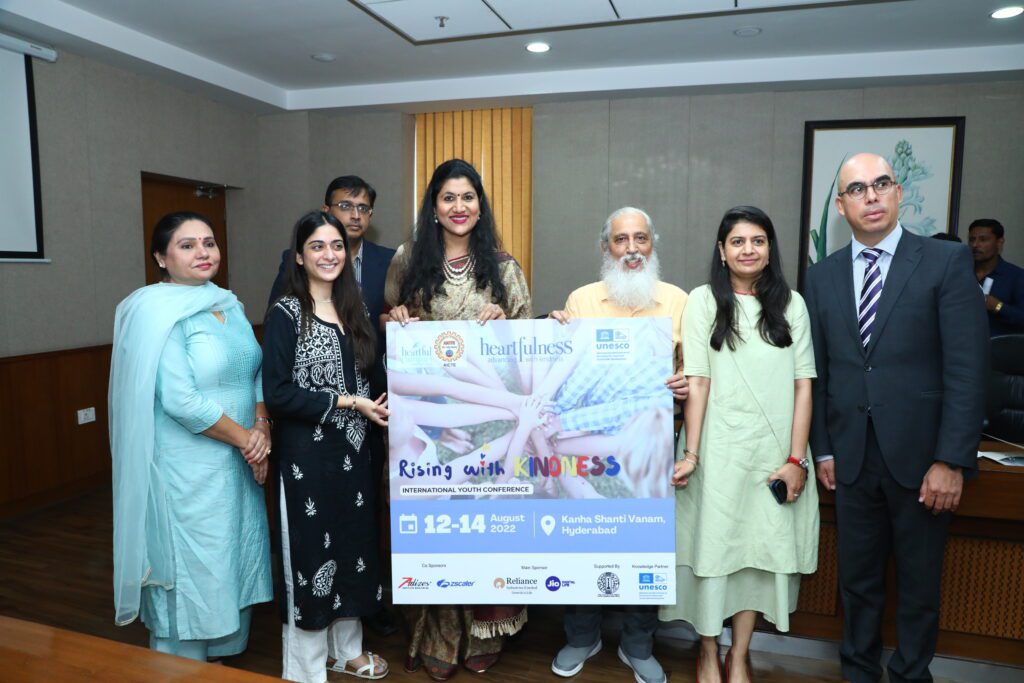 Another highlight of this summit is the 'Kindness Concert' by double Grammy award winner, Ricky Kej and his band, to spread the message of kindness to the environment. The concert will be held on Saturday, August 13 at 6pm as part of this summit.
The event has three focus-verticals: 1) Self: drawing inspiration for personal wellness 2) Society: opportunity to network with other like-minded youth; enabling empathetic leadership, communication, and social entrepreneurship 3) Nature: helping promote kindness towards nature through circular economy, zero waste, eco brick and climate activism.
Dr. Anil Sahasrabudhe, Chairman – All India Council for Technical Education (AICTE) said, "Education is never complete without kindness and empathy. Treating ourselves, our neighbours and Mother Nature well is the first step towards peace. The youth here are thrilled to come together to spread the message of kindness and peace. In the current times when there is chaos everywhere, it is good to see that our youth are being more responsible and wiser in their approach towards the world around them. We need to nurture their spirit and hope that more and more people may join them in spreading the message."
"The idea for this youth event from UNESCO and as part of the conference 200 stories of kindness will be chosen for UNESCO's Kindness campaign. Top Four stories and tellers will be awarded later at the World Youth Kindness Conference in November 2022," said Dr Nivedita Shreyans, RKS convener at a press conference in New Delhi on Aug 2. She added that all those coming for the conference will be lodged in the Kanha Shanti Vanam ashram and both stay and food will be free of cost. All delegates will be offered certifications of participation.
"Coming at a time when people who realized that kindness is the bedrock of society during covid pandemic and got to know how important are neighbours and communities in our lives are just getting to back old ways, this event will help youth in connecting to those values and stories and network," commented Pragya Misra, Heartfulness Trainer.
The three-day event will comprise Experiential-Cerebral-Heartful modes of programme that will span over SEEK workshop, Plantation, Yoga+Meditation, Heartful Communication, Green & Blue Innovation Breakouts, Youth Project Showcase, Keynote talks, Musical Interludes and Kindness Concert. Some of the eminent confirmed speakers at this event are: Pujya Daaji – Global Teacher, Heartfulness * Dr. Anantha Duraiappah – Director, UNESCO MGIEP * Dr. Anil Sahasrabudhe – Chairman, AICTE * Shri Anurag Thakur – Honourable Union Minister of Youth Affairs & Sports * Smt Meenakshi Lekhi – Union Minister of State of External Affairs & Culture * P V Sindhu – World Champion and Badminton Player *Shri Pullela Gopichand – Chief National Coach, Indian Badminton Team * Khatija Rahman – Indian Singer and Director & Trustee of A R Rahman Foundation. *Kiran Bir Sethi – Founder, Design for Change Foundation * Rickey Kej – Music Composer and Two Time Grammy Winner * Smt Vandana Shiva – Environmental Activist * Shri Rajendra Singh – Waterman of India * Shri Puneet Lalbhai – Executive Director, Arvind Ltd. * Smt Vani Kola – Venture Capitalist * Tanya Maniktala – Indian actor * JoshnaChinappa – India Professional Squash Champion * Dr. TejaswiniManogna – Miss Earth 2019 * Rishabh Shah – President & Founder, IIMUN * Shri J D Lakshminarayana – IPS, Former CBI Director and Addnl. Director General of Police * Smt Radhika Ghai – Founder, Kindlife.in * Shri Shobhit Mathur – Founder & Dean, Rashtram School of Public Leadership *Alina Alam – Founder & CEO, Mitti Café * Smt Nirmala Mehendale – Founder Trustee, World Kindness Movement India * Shri M Srinivas Rao – CEO, T-Hub Telangana * Shri Venkatesh Murthy – Founder & Mentor, Youth for Seva * Shri Sadam Hanjabam – Founder & CEO, Ya_All * Kuany Kiir Kuany – Project Officer, UNESCO * Amaarah Martinus – Senior Program Officer, UNESCO MGIEP.