New Delhi, August 22, 2022: DCP Vartika Chaturvedi and her trusted team are back in another thrilling season of Netflix's highly acclaimed crime-drama series Delhi Crime. This time around, in season 2, the Delhi Police will be seen investigating a multiple murder case involving senior citizens, led by their very own 'Madam Sir'. While all the evidence points squarely towards the return of the gruesome Kacha-Baniyan gang escalating public fear, Madam Sir and her team will be seen delving deeper to solve the case and uncover the truth. Delhi Crime Season 2 releases on August 26 on Netflix.
Ahead of the release, the team of Delhi Crime Season 2 – Shefali Shah, Rasika Dugal, Rajesh Tailang along with director Tanuj Chopra visited Delhi to engage with the fans of the show. The team also unveiled an exclusive video 'Do Dilli' amidst huge fanfare.
Talking about the returning season, Shefali Shah who brought the character of DCP Vartika Chaturvedi alive shared, I am so so happy that I am feeling well and I am in the National Capital to celebrate 'Delhi Crime 2'. I can feel all the love for Delhi Crime 2 and I am overjoyed We've created something we all passionately feel about and we can only hope that the audience appreciates this season as well. We've got an incredible cast and crew. A bunch of brilliant actors! Fab director, So when I'm shooting with my entire team, just like Madam Sir, I'm the happiest. It's a privilege to work with these guys. There are so many intricacies, so many layers to the season and to Vartika that I can't wait for the audience to watch it."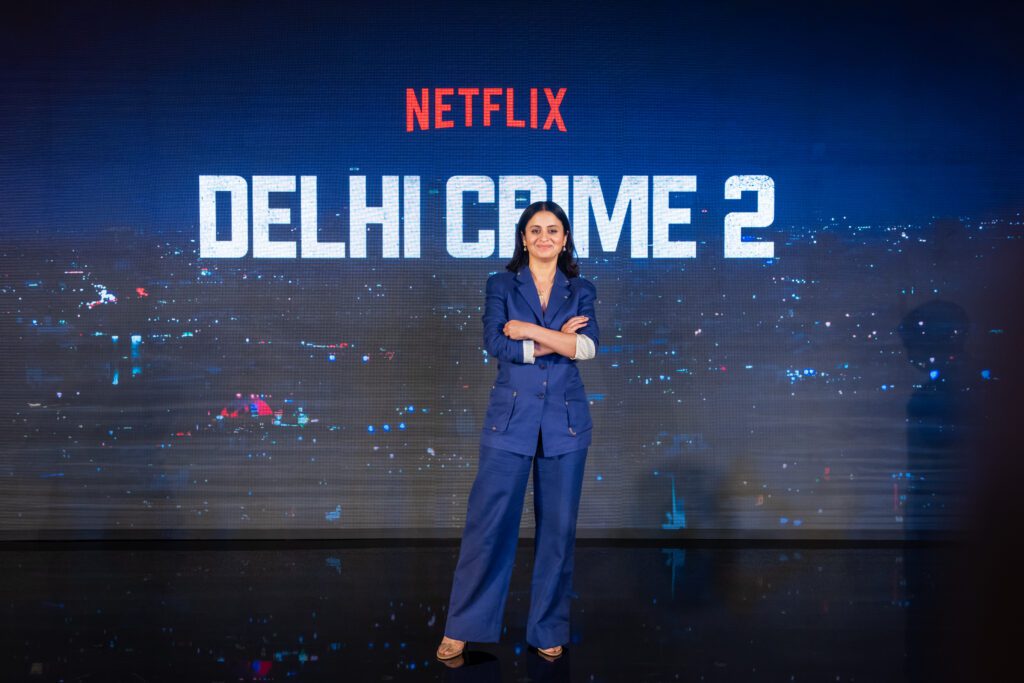 Showrunner and Director Tanuj Chopra said, "The one thing I've learned about Delhi crime is the amount of research that goes into crafting the show. Not all of it shows up on the screen in hard and fast details but it's the foundation on which we build our narrative. I think in S1, people came for the crime and fell in love with the characters. This season we want to take these amazing beloved characters and dive deeper into their personalities and the ways they've grown since last season. That's what's beautiful about the show; the characters and those magic moments between them. I'm proud to pour so much effort and my heart into a show like Delhi Crime."
Sharing her excitement about Delhi Crime Season 2, Rasika Dugal said, "Neeti Singh is a part that resonated with me from the time I first read the script of season 1. As a performer, It was an emotionally immersive experience to journey with Neeti through season 1 and to get to step into her shoes again in season 2 was a bonus ! In season 1 she was a trainee IPS officer- fresh out of the training academy – with a strong sense of sincerity and idealism. In this season she is a more self assured cop with a sense of confidence and ease around her job. It was interesting to see how Neeti had grown and to graph her change with my director and co-actors. There is a strength and resilience about Neeti which does not always feel the need to be asserted. I admire that. Strength and power is sometimes recognised by very stereotypical ways of its assertion. Neeti does not feel the need to be that or do that. I like that about her."
Essaying the role of Bhupendra Singh, Rajesh Tailang added,"It's always wonderful to see so much enthusiasm for a project that one has strived for. This series has been special to all of us in many ways and it is a labor of our love. Bhupendra Singh or Bhupi, DCP Vartika's right hand man, this season will see him face some challenging situations as well. Overall, this season delves deeper into the characters, their individual journeys, their interpersonal equations and at the core is a crime that they investigate with all their might."
Produced by SK Global Entertainment, Golden Karavan and Film Karavan, Delhi Crime Season 2 is inspired by true events. Releasing on August 26, the series also stars Adil Hussain, Anurag Arora, Yashaswini Dayama, Sidharth Bhardwaj, Gopal Dutt, Denzil Smith, Tillotama Shome, Jatin Goswami, Vyom Yadav and Ankit Sharma in pivotal roles.