Delhi/NCR – August 25, 2022 : Export Promotion Council for Handicrafts (EPCH) is credited for organizing leading export trade shows for the home, lifestyle, fashion, furniture and textiles, has now conceptualized two new shows – India GI Fair and Khilona-India Toys & Games Fair, to be co-located and held concurrently from 26th to 28th August 2022, at the India Expo Centre & Mart, Greater Noida.
India GI Fair is India's first trade event of its kind, showcasing the strength of Indian Geographically Indicated (GI) products, through an exhibitor strength of 300+ on a vibrant platform with 6 major categories segmented into materials & wares, foods & ingredients, nature & wellness, handicrafts & handloom, home & collectibles and fashion & accessories.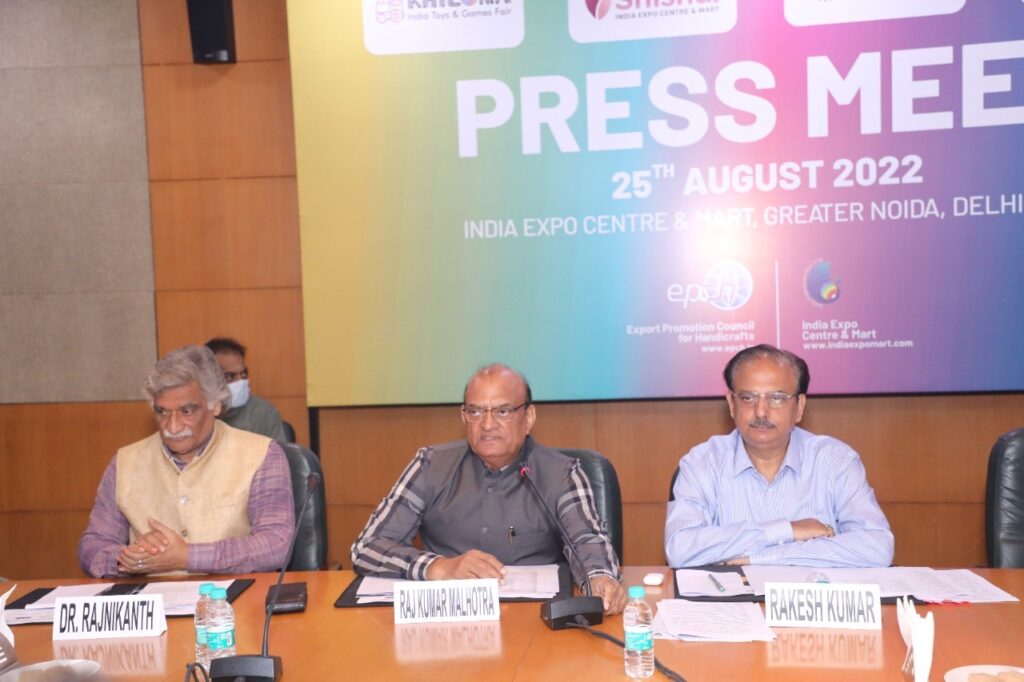 Sharing the concept of the fair, Mr. Raj K Malhotra, Chairman, EPCH, said, "An experience in itself, this show offers a common platform to source Banaras brocade and sari; Ghazipur wall hanging; Madhubani paintings; Allagadda stonecarving; Warangal durries; Kashmir sozani craft; Moga silk of Assam; Bastar Dokra; Channapatna Toys; Uttarakhand Aipan craft; Idu Mishmi Textiles from Arunachal Pradesh; Navara rice of Kerala and many more. The list is amazing just as the inimitable treasure. The collective intellectual heritage and ethos of GI Tagged products of India is constituted in this show. India GI Fair aims to connect these invaluable native products, aptly called Legal Local, to connoisseurs and clientele in India as well as the global market."
Mr. Rakesh Kumar, Director General, EPCH, shared, "Globally, the GI (Geographical Indication) tag is given to products that have distinct qualities and tradition linked to their place of origin. India boasts of many such rarities, of which nearly 390+ are registered till date. At the India GI Fair, one will witness participations from 300+ GI producers from 30 states and UTs and will see the largest and most comprehensive collection from this list, ever to be brought together under one roof. India GI Fair also makes business sense in a unique way. It is a place to broaden one's horizons with unique products as well as crafts. Here one can see and source India's best nurtured treasures, traditions and rarities.
Dr. Rajnikanth, "Padam Shree, General Secretary, Human Welfare Association, Varanasi and GI Expert explained about the entire ecosystem that has developed in the GI over the years, wherein Govt. of India enacted the Geographical Indications of Goods (Registration & Protection) Act, 1999, which came into force with effect from 15th September 2003 and an act was passed in the Parliament and became a law in 2005. Darjeeling Tea was the first Indian product to get the GI tag product of the country and since then there has been over 390 GI registered products in the country. He praised the efforts of EPCH in organising this important marketing event which will surely have multiplier effect in the years to come and would result in registration of many more GIs in the future. He also stressed on the need to safeguard India's intellectual property through GI registration. He further said that in the last one year, 75 new GIs have been filed on the occasion of the 75th year of India's independence, which is record in itself.
"Khilona-India Toys & Games Fair resonates with the Hon'ble Prime Minister, Shri Narendra Modi ji's vision of 'Vocal for Local' and 'Atma Nirbhar Bharat' in toys & games as well as India realising its full potential in manufacturing for this segment, with an aim of becoming a global sourcing hub. The virtual India Toy Fair, held a year ago with EPCH in a designated role as implementing agency, was the first step and Khilona is an emphatic surge ahead in that direction," informed Mr. Raj K Malhotra, Chairman, EPCH.
Khilona is to congregate a full spectrum of India's toys & games manufacturing industry, with a cross section of 200+ businesses, ranging from medium and small exporters, artisan entrepreneurs and start-ups to India's leading manufacturer exporters. The 12 display categories will feature Puzzles & Board Games, Soft Toys & Play Sets, Ride-on & Pull-along Toys, Educational & Learning Games, STEM Toys and Games, Subscription & Hobby Kits, Cycles & Paddle Wheels, Handmade & Craft Toys, Electronic & Precision Toys, Collectibles & Vintage Toys, Outdoor Leisure & Games, Sustainable & Eco-friendly Toys.
Visitors can see India's strengths in innovations and high precession manufactured toys alongside its treasures in form of traditional toys & games as well as collectibles.
"Khilona comes at a very opportune time and reflects bigger aspirations for the future of the toys & games industry. Such trade platforms are instrumental in increasing India's role in the global supply chains by enabling the toy manufacturers, predominantly the MSMEs and traditional practitioners, with the necessary market linkages to enhance their traction in the overseas markets and India's share in global toys & games trade," shared Mr. Rakesh Kumar, Director General, EPCH. He further added that the range of toys and games manufactured in India reflects cultural diversity, they are timeless, ageless and interactive. Toys categories such as dolls, soft toys, baby & infant, pre-school and board games are highly labour intensive and have high potential for scaling up manufacturing.
Emphasis has also been given to showcasing traditional toys like Channapatna Lacquer ware Toys, Kondapalli Wooden Toys, Ettikopaka Lacquer ware Toys, Varanasi Wooden Toys, AsharikandiTerracotta Toys, Jaipur Kathputli, Kinhal Wooden Toy, Nirmal Wooden Toys, Tanjore Terracotta Dolls, Indore Leather Toys, Cuddapah Raja Rani Wooden Dolls, Chitrakoot wooden toys, Bishnupur Toy & Doll in the fair.
A large number of startups are also participating in the fair showcasing a wide range of products including sustainable toys, educational toys, board games and puzzles, traditional toys, infant toys and many more.
Two concurrent shows i.e The Maa – Shishu Expo presenting variety of products, services, support, advice and tips for holistic parenting and STEM conexpo designed to spark the curiosity of its participants by providing a positive experiential opportunity for learning showcasing the emerging tech available in EdTech are also being held at this venue.
Expected visitors to the fairs include Importers, Wholesalers, Brand Owners, Speciality Stores, Retailers and e-commerce platforms, Kindergarten & Schools, Designers & Merchandisers, Play & Special learning groups, etc both from India and overseas.
The international buyers who have registered to visit the fairs include ToyRus from Saudi Arabia; playbox from Sweden; Samacotoys and leisure from Saudi Arabia; tiny tree toys from South Africa; Texas toys distribution from USA; zeta group from Azerbaijan; City Centre commercial Kuwait; Heritage lace USA; Al tamimi group Oman; Zircon Swiss fine food Private Limited, Singapore; On cost, Kuwait; Poly wiggles South Africa; India Bazaar South Africa and many more. The Indian retailers have also registered to visit the fair include Archies, Myntra, Reliance retail, Hamleys and many more.