DELHI/NCR – August 28, 2022 : The maiden editions of India GI Fair and Khilona-India Toys & Games Fair organized by EPCH as well as the concurrently held Maa Shishu and STEM Confex, organized by India Expo Centre & Mart Ltd., concluded with a Valedictory Ceremony and Best Display Awards with the presence of Chief Guest at the event, Mr. Anil Agrawal, Additional Secretary, Department for Promotion of Industry & Internal Trade (DPIIT), Ministry of Commerce and Industry, Govt. of India, Mr. Raj K Malhotra, Chairman, EPCH, Mr. Rakesh Kumar, Director General, EPCH & Chairman, IEML; Members of Committee of Administration, EPCH; and Mr. R K Verma, Executive Director, EPCH, also graced the occasion.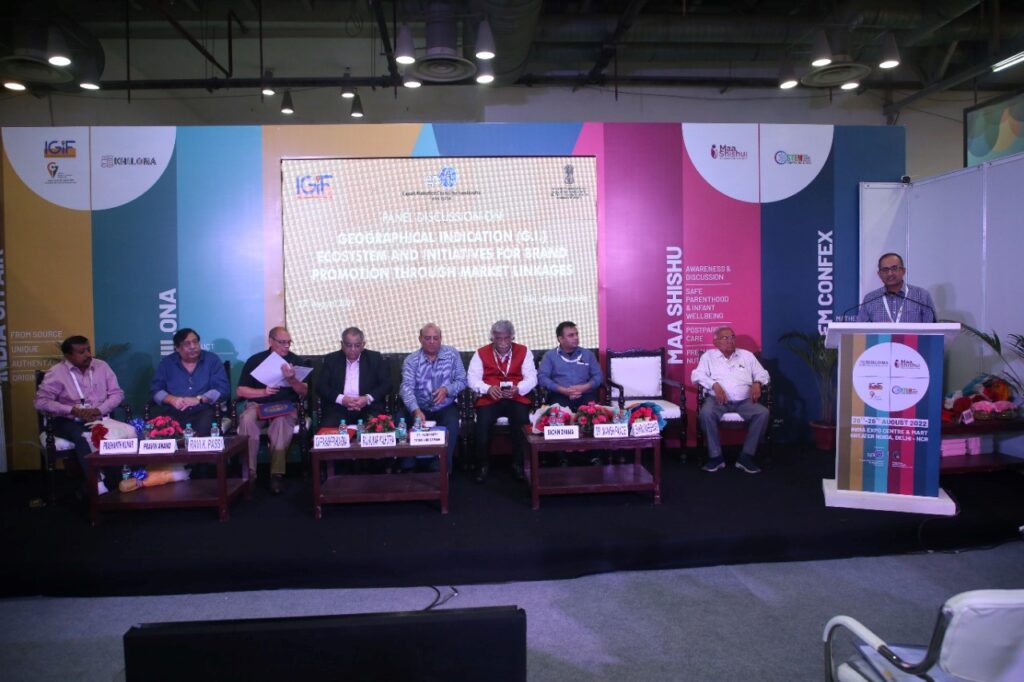 The Hon'ble Prime Minister, Shri Narendra Modi in his message for the success of the fairs called this an opportune time for every stakeholder of the 'Make in India' eco system to work on making the nation self-reliant in every sector. The fairs were visited by various dignitaries like Shri Chandan Ram Das, Minister of Social Welfare, Minority Welfare, Student Welfare, Road Transport, MSME, Khadi & Village Industries, Govt. of Uttarakhand; Dr. Daya Shankar Mishra, Hon'ble Minister of State for Ayush (I.C) Govt of Uttar Pradesh and Former Member of Rajya Sabha and senior BJP leader, Shri Vijay Goel, among others.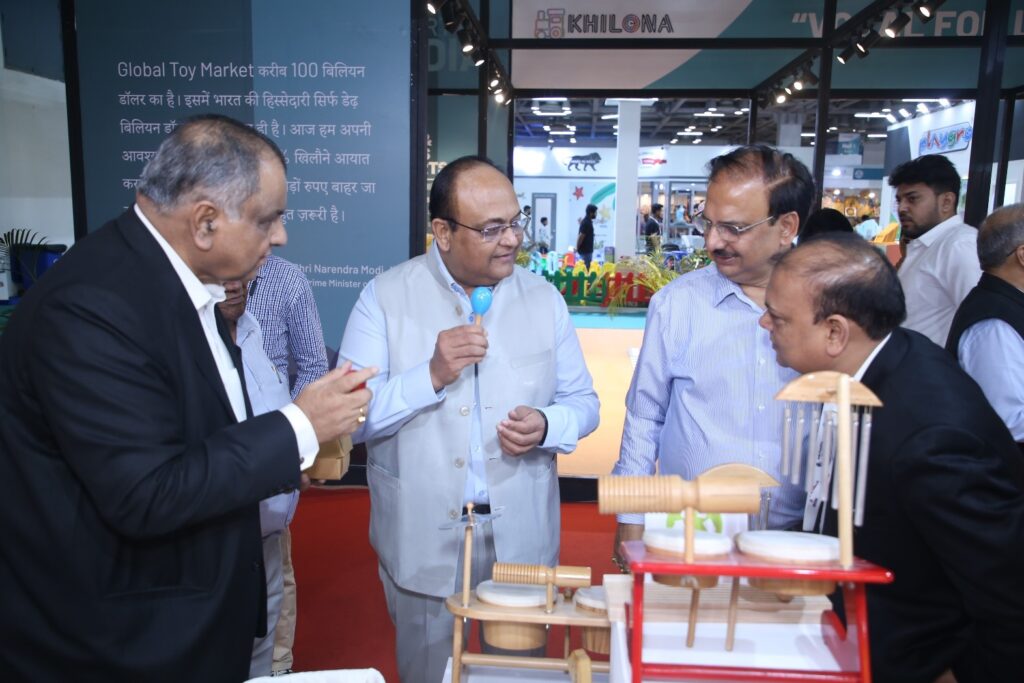 "Buyers in good numbers visited and showed keen interest in sourcing Toys & Games and India's signature products. They expressed happiness on having visited the first edition of India GI Fair with so much to see, learn, experience and source from. Among toys & games, Robotics, products from new start-ups, heritage toys and learning & therapy toys have attracted many," informed Mr. Raj Kumar Malhotra, Chairman, EPCH.
This visit proved fruitful for Miles Shulmani from USA who deals in toy imports & distribution and is looking at shifting his sourcing base to India. Roberto Remeris, home products retailer from Spain was excited to see variety at the India GI Fair and children's room decor & accessories at Khilona. Ezette Fourie from South Africa who sources wooden toys that support educational learning for toddlers, saw good opportunities through Khilona and STEM Confex. "Toy crafts at India GI Fair looked attractive and artisans super skilled," she said. Khilona was visited by buyers from Germany, USA, South America, UK, Netherlands, Spain, Sweden, Oman, UAE and CIS nations, Turkey, Sri Lanka and Singapore. India GI Fair got buyers from USA, Canada, Turkey, Middle East, Australia, UK, Netherlands, Denmark, Italy, Jordan, Singapore, Brazil, Columbia, Mexico, South Africa, Nepal, Hong Kong, Japan, Costa Rica and Mauritius. Visiting International included ToyRus from Saudi Arabia; playbox from Sweden; Samaco toys and leisure from Saudi Arabia; tiny tree toys from South Africa; Texas toys distribution from USA; zeta group from Azerbaijan; City Centre commercial Kuwait; Heritage lace USA; Al tamimi group Oman; Zircon Swiss fine food Private Limited, Singapore; On cost, Kuwait; Poly wiggles South Africa; India Bazaar South Africa and many more.Hamleys, Archies, Myntra, India Bazaar, Reliance Retail, Qalara, Lulu Group and Amazon were among volume retailers from India who visited.
Mr. Rakesh Kumar, Director General, EPCH shared how toy manufacturers in India are keen on the sustainability quotient besides looking at being technically compatible. Many toy makers are coming up with ways to highlight the importance of responsible manufacturing through ethical practices, said Mr. Kumar and further added, "there are crafts persons, especially in our toy making clusters, who abide by the trend of sustainability and building a greener earth by using of eco-friendly materials like bamboo, terracotta, river reed, jute, screw pine, waste paper, sugarcane fibres, etc. and colours derived from natural sources. This is a category where innovations are continuously emerging with EPCH's hand holding and design intervention initiatives playing a decisive role."
"Exhibitors are happy with this new platform and look forward to future editions," shared Mr. R K Verma, Executive Director, EPCH and added that the concurrent fairs have provided a significant glimpse of India's strengths in multiple sectors and industries. Speaking on the occasion Mr R K Verma informed that over 11000 visitors visited during the three days. For Khilona-India Toys & Games Fair business of approximately 22 Crores is expected to materialize, while at the India GI Fair, most of the participants sold the GI tag products and generated many business enquiries.
Among exhibitors, Mr. Amit Kumar from Smartivity Labs Pvt. Ltd., said, "The response encourages us to expect growth through this participation." Mr. Jatin Sachdeva, VP Operations, HoneyBun said, "Excellent management and great facilities for the exhibitors. Look forward to meeting more clients here." Mr. Vineet Srivastava, Founder, Wibyte added, "Quality crowd and a fantastic platform to promote brands, build relationships with, and network with specific audiences." Mr. Arjun Seth, Parenting Coach, CEO, Prodigy Super Kids shared, "Ma Shishu Expo and STEM Confex is a great platform to connect with parents and interact with different schools & educators. I am also very happy with the support of the organizing team."
TwoPanel Discussions – "Geographical Indication (GI) – Ecosystem and Initiatives for Brand Promotion through Market Linkages" and "Reinventing the Future Toys – Design, Learning, Creativity, Entrepreneurship" brought forth expertise and knowledge sharing towards a collective vision for the future.
An Award ceremony to felicitate individuals and organizations of eminence and participants with exemplary display was held today. The Chief Guest, Shri Anil Agrawal, Additional Secretary, Department for Promotion of Industry & Internal Trade (DPIIT), Ministry of Commerce and Industry, Govt. of India gave away the Awards. Among felicitations & awards, Lifetime Achievement Award was given to Dr. Rajani Kanth, Padma Shri Samman, Executive Director, Human Welfare Association, Varanasi, for his dedication and efforts in promoting GI crafts from India. The Institutional Awards went to Agricultural and Processed Food Products Export Development Authority (APEDA); Spices Board; Tea Board; Coffee Board; Cell for IPR Promotion and Management (CIPAM); Toy Association of India (TAI); and Geographical Indications Registry, Govt. of India. The State award for thematic display and group participation were given to Jammu & Kashmir Trade Promotion Organisation (JKTPO); Uttarakhand Handloom and Handicraft Development Council (UHHDC); and Visvesvaraya Trade Promotion Centre (VTPC), Govt. of Karnataka.