New Delhi, Aug 29, 2022: Bollywood veteran Shabana Azmi today closed the I-festival, the annual event of JD Institute of Fashion Technology. The two-day fashion extravaganza came to an end after showcasing sustainable design concepts in the fashion show, exhibiting prototypes, installations and models created by students and felicitating the trendsetters across society in a glitzy award ceremony.

An audience of Almost 10,000 and 30 designers, artists and creators took part in the event at the Jawaharlal Nehru Stadium, Weightlifting Auditorium. Dinesh Mohan who lost 50 kgs in his fifties to become an ace model, presented his new body as the showstopper of one of the fashion shows. Padma Bhushan Rajeev Sethi, Designer- scenographer-art curator attended the event as a Chief Guest.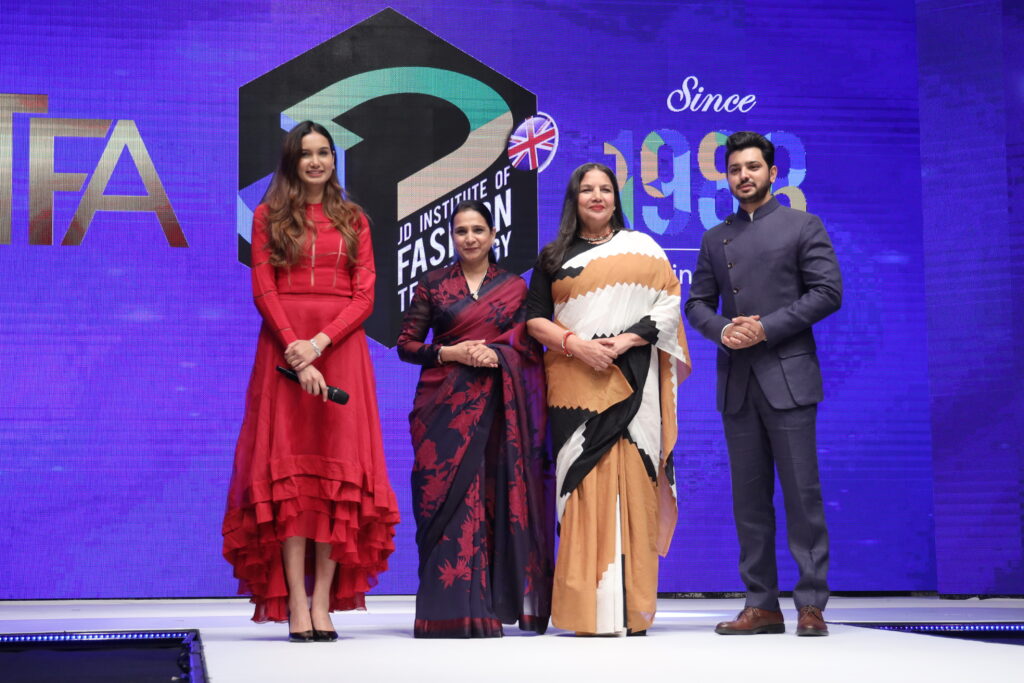 Shabani Azmi is a great admirer of Indian handlooms and bats for its revival to save the dying art form. Synching with her sentiments, the theme of this year's fashion extravaganza was "Arrival" and it aims to make the industry reconsider the legacy they have left behind.

Shabana Azmi who was also the chief guest at the event said, "It is my absolute honour to be present at the fashion show and congratulations to the winners. I have known Rupal for a very long time and am very delighted about Akshara. I always have this favouritism for girls. They incorporated this idea long ago and began with a vision of giving students the kind of training that will not only teach design as something separate but a part of life and everyday living. To me, design is only important if it is resource based in life. I come from the film industry. I believe in training. I think training is very much necessary. JD Institute of Fashion Technology has been serving the purpose since 1988. Very impressed with the show and collection and I want to congratulate Rupal Dalal, Harsh Dalal and Akshra Dalal. I am sure that students who come out from here are reaching for the stars".

"The design has no bounds and the best way to experience it is from all your senses. The festival is an initiative to help artists, designers and creators to celebrate their individuality and intellect and innovate new paths for the future. It is also a place to initiate discussions on how the design would help improve the environment and foster sustainable practices as a standard of living instead of a choice to make. The festival celebrated art culture and design. It also speculated, anticipated and theorized what the world could look like in 10 years and give design solutions to future problems. The theme will help the Industry set an agenda for the future and explore policies that are humanity centric instead of human-centric," said Rupal Dalal, Managing Director, JD Institute of Fashion Technology

The two-day event had an interesting lineup of Fashion Awards, Exhibitions and showcases of unique designs and concepts. The Fashion Award acknowledged the efforts of those who are considered trendsetters and have created a mass following. Even the upcoming young fashion designers were felicitated for their out-of-the-box creations and ideas.