New Delhi, September 29, 2022 : Export Promotion Council for Handicrafts (EPCH) today conducted its 36th Annual General Meeting at New Delhi. Shri Raj Kumar Malhotra, Chairman EPCH, Shri Kamal Soni, Vice Chairman-II EPCH, Shri Ravi K. Passi, Shri O.P. Prahladka, Shri K.L. Ramesh, Dr. Bharat Dinesh, Mr. Rajesh Jain, Mr. Sagar Mehta, Mr. Simrandeep Singh Kohli, Mr. Hemant Juneja, Mr. D. Kumar, Mr. Prince Malik, Mr. Sharad Bansal, Mr. Pradeep Muchalla, Mr. Ashok Arora, Mr. Arshad Mir, Mr. Avdesh Agarwal, Members-COA, Shri Rakesh Kumar, Director General – EPCH and Mr. R. K. Verma, Executive Director-cum-Secretary-EPCH, Mr.Ravi Kumar Gond, Returning Officer, Election – COA, Mr. Najmul Islam, Leading member exporters from Moradabad alongwith member exporters from Delhi, Jodhpur, Moradabad, Mumbai, Kolkata, Bangalore and other parts of the cities were present during the AGM.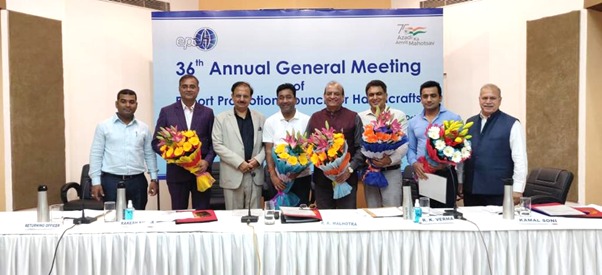 Shri Raj Kumar Malhotra Chairman-EPCH chaired the Annual General Meeting and briefed the gathering about various activities and initiatives undertaken by the Council during 2021-22 toward the promotion of exports of handicrafts from the Country. During the fiscal year 2021-22, the Council participated in a variety of activities thereby offering opportunities to the exporting community to perform better in the global market.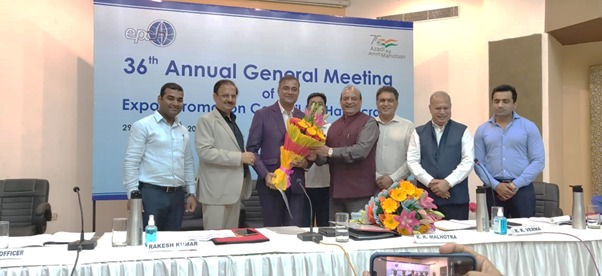 One of the agendas of the 36th AGM was to conduct Election of members of Committee of Administration (CoA) as per the available vacancies and Election of six members of CoA were held. Mr. Raj Kumar Malhotra was elected from Northern Region; Mr. Kamal Soni, Mr. Salman Azam and Mr. Sharad Kr. Bansal were elected from Central Region; Mr. Girish Kumar Agarwal and Mr. Hansraj Baheti were elected from North West Region informed Mr. Rakesh Kumar, Director General – EPCH.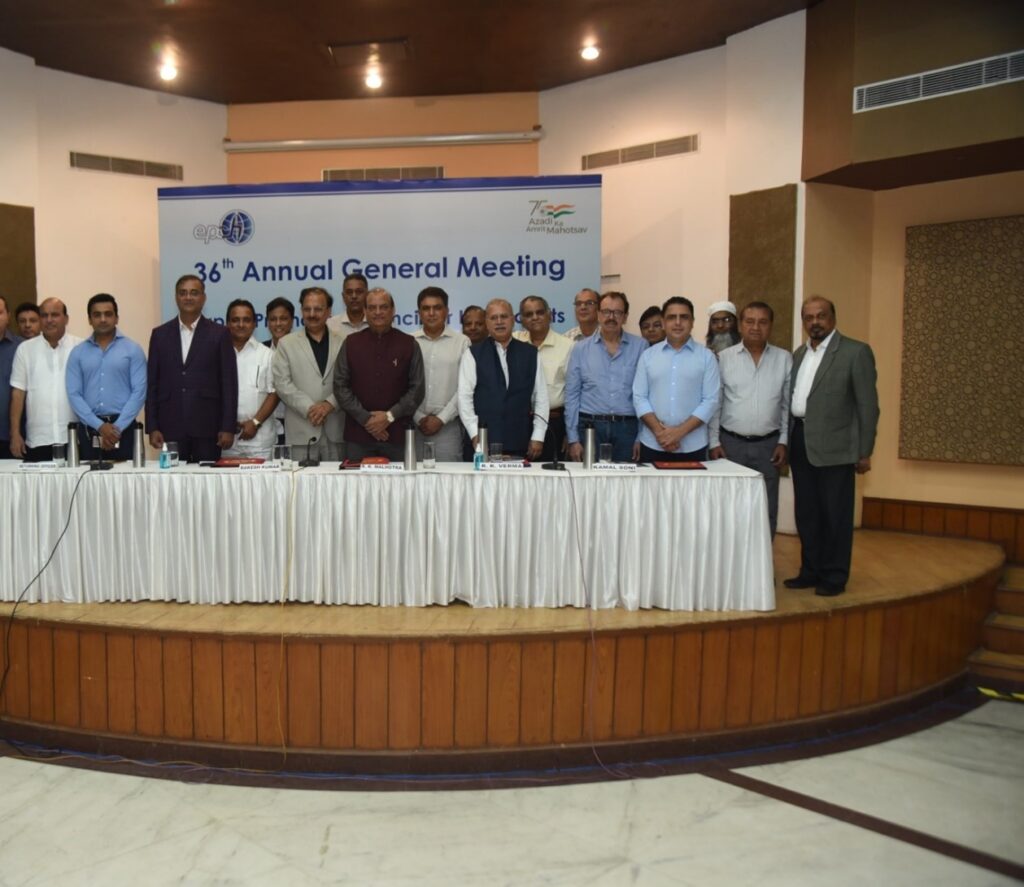 EPCH being a nodal agency, promoting exports of handicrafts from the Country to various destinations of the world and projects India's image abroad as a reliable supplier of high-quality handicrafts goods & services. The Handicrafts exports during the year 2021-22 was Rs. 33253.00 Crores (US $ 4459.76 Million) registering a growth of 29.49% in rupee term & 28.90% in dollar terms over the previous year.