New Delhi, October 11, 2022 : The government of Karnataka today started its domestic roadshows from New Delhi to promote the state as a leading investment destination of the country by offering potential investors a host of incentives meant to garner investments and bring new business to the state.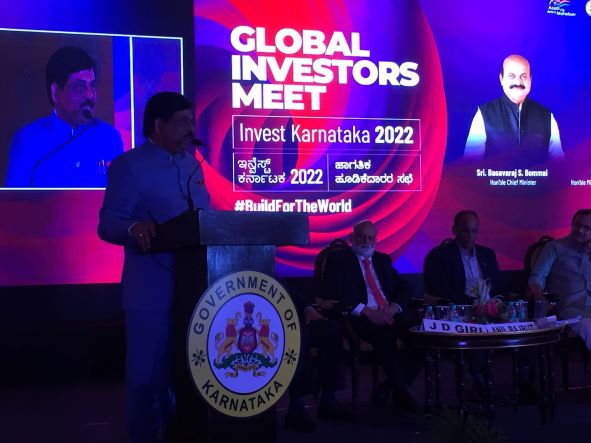 In a series of roadshows, the state delegation led by Dr. Murugesh R Nirani, Minister of Large & Medium Industries, Government of Karnataka along with other top officials from the state will meet a host of potential investors in Delhi, Hyderabad, and Mumbai to invite them to the Global Investors Meet (GIM) to be held in Bengaluru, home to branches of more than 400 of the Fortune 500 companies during November 2 – 4, 2022.
GIM 2022 is a flagship investor event for the state of Karnataka. The purpose of the event is to showcase the robust industrial-friendly ecosystem, attract investments from global players, and spread industrialization across the state.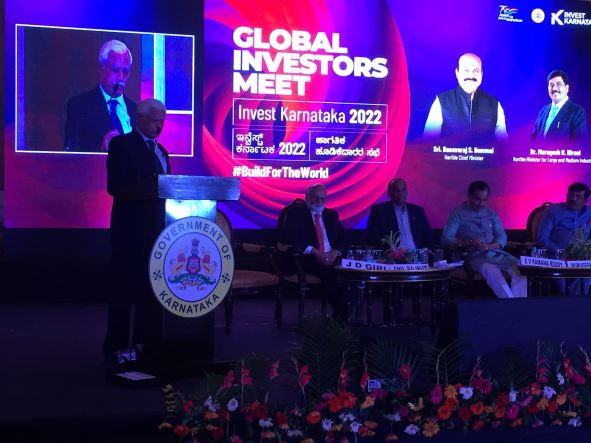 Speaking at the event, Shri Bhagwanth Khuba, Hon'ble Union Minister of State for Chemicals, Fertilizers & Renewable Energy, Government of India said "The world is looking at India for its cost competitiveness, favourable policy environment, and youngest labour force. Under the able leadership of Hon'ble Prime Minister Modi, we are moving forward to achieve the 5 trillion economy vision soon and I hope that Karnataka will be leading the country in the forefront."
Kicking off the domestic roadshows, Dr. Nirani said, "Karnataka is India's leading investment destination. The state continues to remain #1 in attracting FDIs from Apr'21-March'22 with Rs 1.76 lakh crore ($22.1 Bn), 38% share of total FDI in India. For the Global Investors Meet, a total of 50,000 acres of land — 20,000 acres in Bengaluru and 30,000 acres across the state has been earmarked. The state is expecting over Rs 5 lakh crore in investments and 5 lakh employment during the GIM".
"We have recently completed international roadshows in Japan, South Korea, the US, and Europe. Our aim is not only to get investments but to bring the industry giants under one platform. Around 5000 delegates are expected to participate in the Meet." he added.
Talking about GIM 2022, Dr. Nirani said that with the key themes of resilience, innovation, sustainability, and equity, we are committed to setting Karnataka's development agenda in line with global best practices and showcasing our strong ability to 'Build for the World'. "The State of Karnataka offers an excellent industrial ecosystem, world-class infrastructure, and industrial-friendly policies. The delegation is here to invite potential investors to the Global Investors Meet," he added.
Karnataka has emerged as a top investment destination in the country for the last two years in a row. The state has attracted Rs 62,085 crore investments and is a top recipient with a 48% share of total FDIs in India.
Dr. E.V. Ramana Reddy, Additional Chief Secretary to Government of Karnataka, Commerce, and Industries, who is part of the State delegation said, "Karnataka State is the preferred destination for investments in the manufacturing & sustainability sectors. We are working consistently both from a policy intervention and industry perspective to build state-of-the-art infrastructure to support a robust industrial ecosystem. Through meetings with top companies in thecapital city, we are looking for collaboration opportunities and to engage with global businesses and thought leaders across sectors."
During the one-day roadshow at New Delhi, the delegation met the representatives of ITC, Scape India, Renew Power, Sembcorp Energy, Lithion Power, Dalmia cement, Sterling Tools, Nestle, Jubliant Food Works, Garuda Aerospace, Ocean Pearl Hotels, V- Guard Industries, Nithin Sai Renewables, where the minister showcased the industry-friendly policies of the state and presented Karnataka as an ideal investment destination for the manufacturing companies.
Dr. E. V. Ramana Reddy, Additional Chief Secretary to Govt, Ms. Gunjan Krishna, Commissioner for Industrial Development and Director, Department of Industries & Commerce, Government of Karnataka, Anil Rajput, Vice president, Corporate Affairs, ITC , Amardeep Ahuwalia , Vice President, Jubliant Food Works , J.D. Giri, Vice President, Shahi Exports, were present during the roadshow.
Invest Karnataka 2022 – Global Investors Meet
The Global Investors Meet 2022 is a platform to join industry leaders, innovators, and policymakers from all over the globe to explore new growth possibilities.
Around 5000+ global delegates are expected to attend the Meet. The GIM with contemporary themes will be an opportunity to connect, collaborate and network with global leaders.
The Meet will host plenary sessions, tech-driven special sessions, B2G meetings, 300 + stalls to exhibit products and solutions, cultural shows from Ricky Kej, and Vasundhara Das, Yakshagana performances, Jugalbandi, local food experiences, wine tasting, nature trails, networking, and much more.
Karnataka – A land of opportunities for companies to invest
Key Offerings that make Karnataka the most attractive investment destination in India
• Investor-friendly policies with multiple financial incentives to create favorable cost economics
• Readily available industrial eco-system including a land bank of 50,000 acres that has been earmarked for industrial development.
• Highly skilled & trained labor workforce, along with a robust skill infrastructure and subsidies
• Well connected to demand centers and gateways with an efficient logistics network
• Revamped processes to facilitate Ease of doing business
• Industrial ecosystem well supported by World Class Social Infrastructure.