New Delhi, 20th December 2022, : Saarloha Advanced Materials Private Limited (Saarloha),a Kalyani group company, today launched first of its kind in India, green steel under the brand "KALYANI FeRRESTA" in the presence of Shri. Jyotiraditya Scindia. This makes Saarloha the first supplier of Made in India green steel. This major milestone will enable Saarloha to contribute towards the government of India's commitments to reduce the carbon emissions by 45% by 2030, over 2005 levels and to become Net Zero emissions country by 2070.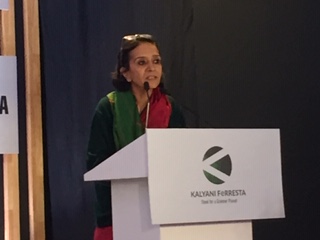 KALYANI FeRRESTA steel products are manufactured in an Electric Arc Furnace using electricity from 100% of renewable energy sources and more than 70% recycled scrap material with zero GHG footprint. KALYANI FeRRESTAPLUS has Net Zero GHG emissions per ton of Crude steel whereas KALYANI FeRRESTA has very low GHG emission of <0.19 tCO2e per MT of Crude Steel. Customers purchasing KALYANI FeRRESTA & KALYANI FeRRESTA PLUS steel products will get Green Steel certificates jointly issued by DNV Business Assurance India Private Limited & Saarloha which they can use to claim their Scope 3 emissions reduction.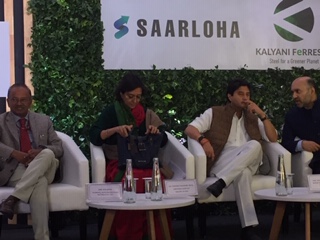 Speaking at the launch, Shri. Jyotiraditya Scindia, Minister of Steel and Civil Aviation said, "A sunrise day for India's steel sector, as India initiates green steel production using renewable energy. The Kalyani Ferresta specialty steel plant will herald a new path for producing steel sustainably with near net zero carbon emission.
The steel sector is the foundational force for the development of the nation. This initiative will help transform the steel sector's long-standing identity from a carbon emitting "hard to abate sector", to a reduced carbon emitting-green steel -producing industry. It will also be instrumental in materialising Prime Minister Narendra Modi's vision of Net Zero by 2070.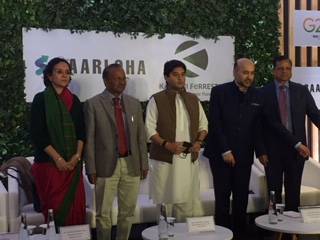 My best wishes to the Kalyani Group for the trailblazing initiative, and hope that this would serve as a guiding light in the domain of socially-conscious business"
Speaking at the launch,Shri. Amit Kalyani, Deputy Managing Director, Bharat Forge said, "We are stepping into the era of sustainable development. At Kalyani group, we are committed to reduce our carbon footprints and KALYANI FeRRESTA is a significant step towards realizing the larger vision of achieving carbon neutrality. Green Steel is the future of world economy and given the vast renewable energy potential of India, we can lead from the front."