Western Australia, 28th October 2022: NSDC International (NSDCI) and Perdaman collaborated to bring forth a new era of growth, prosperity, and alliance, to establish an 'exclusive partnership to become a Gateway to Australia for the Indian skilled and business community. The association will build the trust and credibility. Both the companies have become a natural partner (partner of choice) due to their business strength which align to provide synergies in delivering premium services aligned to their core values. This agreement will lead to deeper cooperation between the two companies to foster the Australia and India mutual co-operation. This association has envisioned a big dream and has come together to assist to build the Australian economy and has set up the below pathways for success:
· Vision: Exclusive Platforms to address the high skill shortage that are currently impacting the growth of Australia
· Mission: To continuously transform the Indian trade relationship through talent, finance capability and to promote education to Australia
· Tagline: Building the Australian economy with Indian trade & talent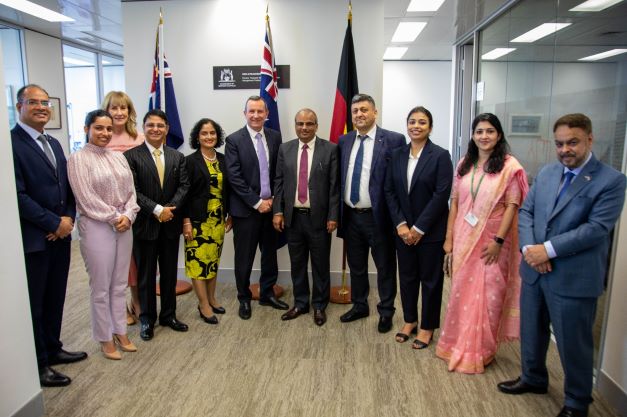 Under the leadership of Hon'ble Prime Minister of India Shri Narendra Modi, the Centre is taking great efforts in skilling, re-skilling and upskilling its youth. The National Skill Development Corporation (NSDC) launched NSDCI as a 100% subsidiary to play role in steering national and international partnerships for overseas employment through specific programmes, positioning India as the preferred hub for the supply of skilled workforce across the globe. The collaboration will also provide students from India/Australia with the opportunity to study in the reciprocal country through various channels. Going forward, it would also explore the scholarship opportunity and the possibility of a reduction of the fee for students coming from economically weaker backgrounds. The association will work in various industry sectors including manufacturing, hospitality, agriculture, renewable energy and electric vehicles.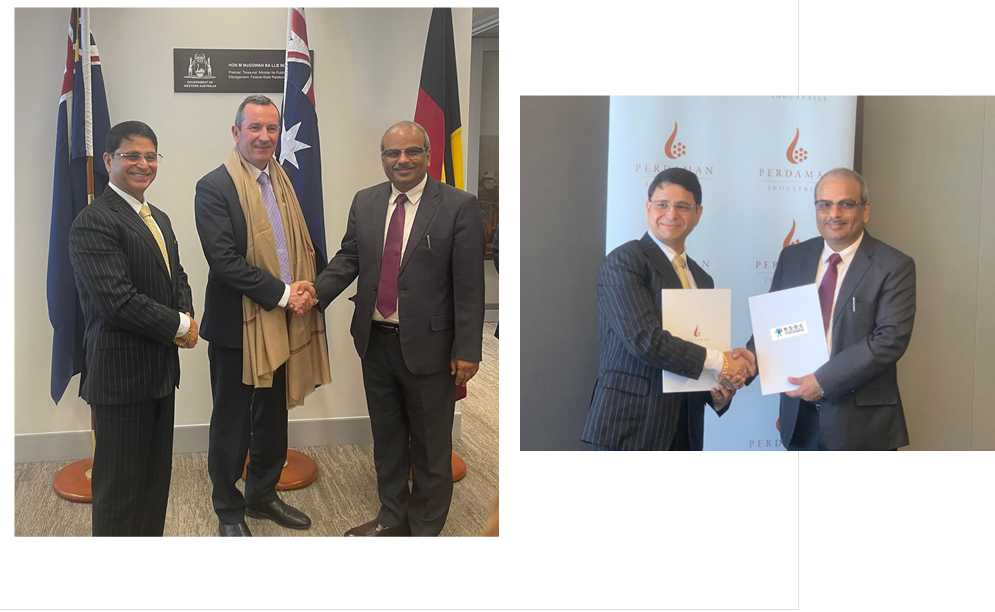 Shri Ved Mani Tiwari, CEO, NSDC & Managing Director NSDC International visited Perth with the blessing of Hon'ble Minister Pradhan to launch NSDC International with Perdaman in WA. The six (6) member delegation met with the Premier of Western Australia, Hon Mark McGowan MLA. NSDC International "While India has a huge network of training institutions consisting of Industrial Training Institutes (ITIs), Pradhan Mantri Kaushal Kendras (PMKKs) and other institutions skilling millions of youths every year, Australia is facing an acute shortage of skilled workers. As a result, there is an urgent need to create an enabling and facilitating environment to benefit both countries. It is my firm belief that this partnership will not only make the process of international mobility by a smooth process by removing any bottlenecks and procedural challenges but also meet the aspirations of Indian youth to earn a livelihood in foreign countries."
Chairman of Perdaman, Mr Vikas Rambal said "We welcome the Government of India's initiative to build stronger ties with Australia and they have chosen WA as a state to establish the network. This is a historic moment for both the countries to have organisation like NSDC International to establish with local partner Perdaman, for building the vision for the next generation of entrepreneurs and businesses.
Premier Mark McGowan welcomed the decision by Perdaman and NSDCI to establish the office in Western Australia, and the opportunity to strengthen ties with India. Mr McGowan said, "My Government is committed to enhancing our State's already strong relationship with India, which is underpinned by common values, strong people-to-people connections, and substantial trade and investment links. Earlier this year, our largest ever business delegation travelled to India with a clear message – Western Australia is open for business and warmly welcomes students, workers, visitors and investors.
India is the world's largest democracy with a very young population, providing a demographic advantage all the way to 2055. Under Skill India Mission, sustainable skills strategies have been developed in collaboration with the government, industries, and education systems, transforming Indian talent and making the youth the code for global prosperity today. This presents significant opportunities for Australian businesses, including in education, agriculture, energy, and tourism, to attract skilled workers from India and bridge the acute skill shortage that plagues the country. A close partnership between the two nations in the skill sector will not only contribute to nation-building but also bring up to $100 billion in bilateral trade in the next eight years.
India has always placed Australia at the forefront of its international partnership with both governments recognising the significant potential for further collaboration across a myriad of areas such as trade, defense, education, and skill development. To further strengthen the diplomatic ties, Dharmendra Pradhan, Minister of Education Skill Development and Entrepreneurship recently visited Australia to discuss deploying Australian Skill Standards & Certification frameworks in India. During the meeting, Pradhan reiterated India's interest in collaborations with Australia's skilling institutions by saying that India's young demography is the biggest strength in the 21st century and will contribute to the nation as well as the global economy.
The recently signed interim free trade agreement between India and Australia has become the base for enhanced cooperation in investments and other strategic engagements. The comprehensive interim agreement provides zero-duty exports to almost 100% tariff lines from India to the Australian market and 85% imports from India. The pact, which is expected to be effective in about four months will eventually pave the way for a full Comprehensive Economic Partnership Agreement (CEPA).