New Delhi, January 5, 2023 : Dr. Bhupendra Kumar Modi commenced the celebrations of his 74th birthday with a series of events in New Delhi. Scheduled from January 2nd to 9th, 2023, the ongoing events are a spectacular affair being attended by people from all walks of society that include leading representatives of New Delhi's social, political and legal circles to e-shram card holders working in India's unorganised and informal sector.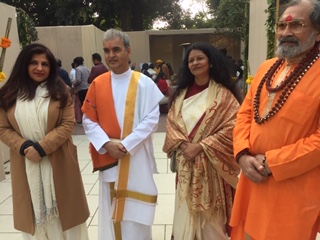 The billionaire's extravaganza began on January 2nd, 2023 with a special hawan centred around the akhand jyoti from Jwala devi temple (Himachal Pradesh) which is one of the 51 Shaktipeeths of India. The hawan was graced by Jagadguru Shankaracharya Swami Shri Sadanand Saraswati Ji Maharaj who is the spiritual head of Dwarka Sharada Peeth – one amongst the four Chaturāmnāya (Cardinal) Pīthams established by saint Adi Shankara to preserve and propagate Sanatana Dharma and Advaita Vedanta. Post this, the week-long celebrations hosted a pageant of celebrity performers including a private concert by Bollywood singer Kailash Kher.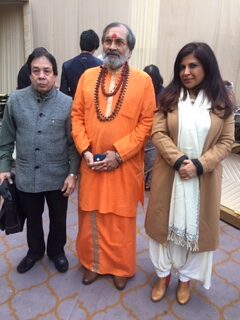 Attended by who's who of Indian landscape, Dr. BK Modi's birthday was attended by Brahma Kumaris, Rabbi Ezekiel Isaac Malekar (Jewish Community), Goswami Sushil Maharaj (President, Sarva Dharma Sansad), Swami Chander Dev Maharaj, (Chairman Global Saints Samaj Kalyan Foundation), Shradheya Sai Sharnagat (Bhaiji), President, International Spirituality Olympiad), Swami Shantatmananda, (Secretary, Ramakrishna Mission, Delhi), Dr. A. K. Merchant (General Secretary, Temple of Understanding India Foundation & Chairman, The Spiritual Assembly of the Baha'is of Delhi), Acharya Vivek Muni (President, Mahavir International Foundation), Buddhist Monk, Dastur Cawas Bagli (High Priest, Delhi Parsi Anjuman), Haji Syed Salman Chisty (Chairman, Chishty Foundation and the Gaddi Nashin of Dargah Ajmer Sharif) and many more.
Following the mantra of 'Sankalp Jayate Siddhi' which means a 'resolve to be awakened,' in this watershed year, Dr. Modi has also rechristened his business group, from Smart Group to Modi Group. The Modi name in India has been associated with transformative action at a large scale that has been instrumental in developing India.  The change signals a return to his roots in his quest to build upon the legacy of his father Shri Rai Bahadur Gujarmal Modi.