Blossom Kochhar Aroma Magic, a trailblazer in the skincare industry with a rich legacy of over 35 years, is proud to announce the highly-anticipated launch of four extraordinary skin serums. Guided by the unwavering vision of its founder and chairperson, Dr. Blossom Kochhar, these revolutionary serums are poised to reset the standards of skincare and lead clients to a future of radiant and rejuvenated skin. Embodying the brand's commitment to nature-derived, cruelty-free formulations, these serums are carefully crafted with aromatherapy-based ingredients and are completely free from nasties like parabens and artificial fragrances.
"I have been using serums in our professional range all along and I was impressed with the results offered by them. With regular use of the serums you can attain highly improved skin. They really help to "Reset your Skin" and give you Good Skin Days ahead", says Dr. Kochhar.
Vitamin C Face Serum
Blossom Kochhar Aroma Magic Vitamin C Face Serum is an amazing skincare product that combines the benefits of natural extracts, essential oils, and vitaminC. Antioxidant and anti-aging serum that cures hyperpigmentation, minimizes fine wrinkles, and restores sun damage.
INR 575/-

Squalane Serum
An extraordinary aromatherapy-based skincare solution crafted with the finest ingredient. It is designed to provide your skin with exceptional benefits, starting with its ability to lock in moisture and create a barrier against dehydration. Experience the transformative power of this serum and indulge in the luxury of naturally beautiful skin.
INR 595/-

Hyaluronic Serum
Hyaluronic Serum is a revolutionary skincare solution enriched with the powerful ingredient, hyaluronic acid. This serum is designed to deliver exceptional results, starting with its ability to boost moisture levels, providing deep hydration to the skin. As a result, fine lines and wrinkles are visibly reduced, revealing a smoother and more youthful skin.
INR 595/-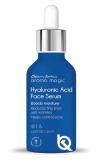 Niacinamide Face Serum
Blossom Kochhar Aroma Magic Niacinamide Face Serum is a wonderful addition to your skincare routine. Natural extracts and essential oils that help to nourish and renew the skin are added in serum. The serum has 10% niacinamide concentration and 1% zinc concentration do wonders for decreasing inflammation and regulating sebum production.
INR 595/-