Gurugram, October 18, 2023: Recently, doctors at Paras Health performed a knee surgery on a 43-year-old female patient suffering from rheumatoid arthritis and a severe flexion deformity i.e., her knees were bent at a 90 degrees angle, and she was unable to straighten them or put her feet on the ground. This was her second knee surgery, the first having been performed at another hospital in 2021. She had been bedridden for a year before her first surgery and apparently due to suboptimal surgical correction and improper rehabilitation, she continued to remain bedridden afterwards, too. A team of doctors, led by Dr. Vivek Logani, Director, Paras Joint Replacement and Sports Injury Centre performed the surgery successfully, providing the patient an opportunity to walk again.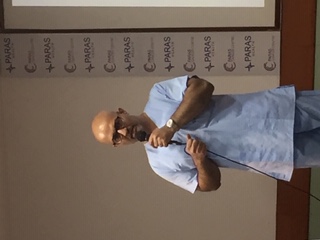 The patient was bedridden at the time of presentation as her knees had a grotesque flexion deformity.
Commenting on the complexity of the case, Dr. Vivek Logani, Director of Paras Joint Replacement & Sports Injury Centre at Paras Health, Gurugram, stated, "This was an exceptionally unique case – because complications had arisen after the patient's previous knee surgery. Therefore, the only viable option for us was to opt for a 'revision' surgery. This proved to be highly complex and challenging because the initial surgery had been conducted elsewhere and we did not have any knowledge how and why it had been performed. Additionally, the patient was already suffering from rheumatoid arthritis and a severe knee deformity – repeating the knee surgery ran the risk of injury to vascular and nerve injuries. The surgery was also complicated because of the presence of existing artificial knee implants, increasing the risk of instruments denting or scratching the implants during the process. Despite these challenges, we managed to achieve a 60 percent correction during the surgery as any sudden correction beyond this point would have endangered the blood vessels and nerves. We releasedthe tight muscles and other structures around the back of the knee, both from the outside and inside. This was crucial to preserve all the nerves and blood vessels.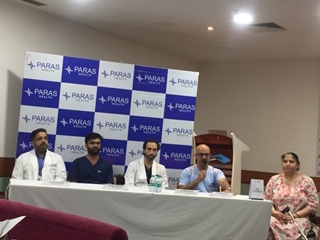 He adds, "The post-operative period was smooth. Blood circulation was returned to normal, and the patient's nerves were functioning properly. Two days after surgery, the patient took her first steps with the aid of a knee brace. With dedicated physiotherapy over three months, she gradually regained the ability to walk independently and perform exercises on her own."
The patient expressed, "I am immensely thankful to the skilled team at Paras Health for giving me hope and a renewed life. Their expertise and dedication are immeasurable, and I am profoundly thankful to Dr. Vivek Logani and the entire team for their exceptional care and unwavering support. They didn't just mend my legs; they mended my spirit."
Rheumatoid arthritis, a chronic inflammatory condition, triggers the gradual destruction of joint cartilage through the patient's own immune system. This debilitating disease weakens muscles, ligaments, and bones, rendering them fragile. In the absence of proper treatment, it cripples the patients by causing pain and deformity in multiple joints. Besides multiple complex deformities, the surgeons at Paras Health, renowned for its specialized medical team, have successfully treated 18 patients who had been crawling on ground due to extreme deformities over the last two decade through knee replacement surgeries. Remarkably, they faced an unprecedented challenge, encountering their first case of such a severe flexion deformity after knee replacement in 20 years of their clinical practice. This milestone underlines their commitment to addressing unique medical complexities with pioneering solutions.