Mumbai, November 7, 2023: Amazon miniTV, the leading free Over-the-Top (OTT) platform, has taken an innovative approach to involve its audience in the highly-anticipated launch of Crushed Season 3. In a move that underscores its commitment to its loyal fan base, the platform offered its viewers an exclusive opportunity to select the release date for the upcoming season.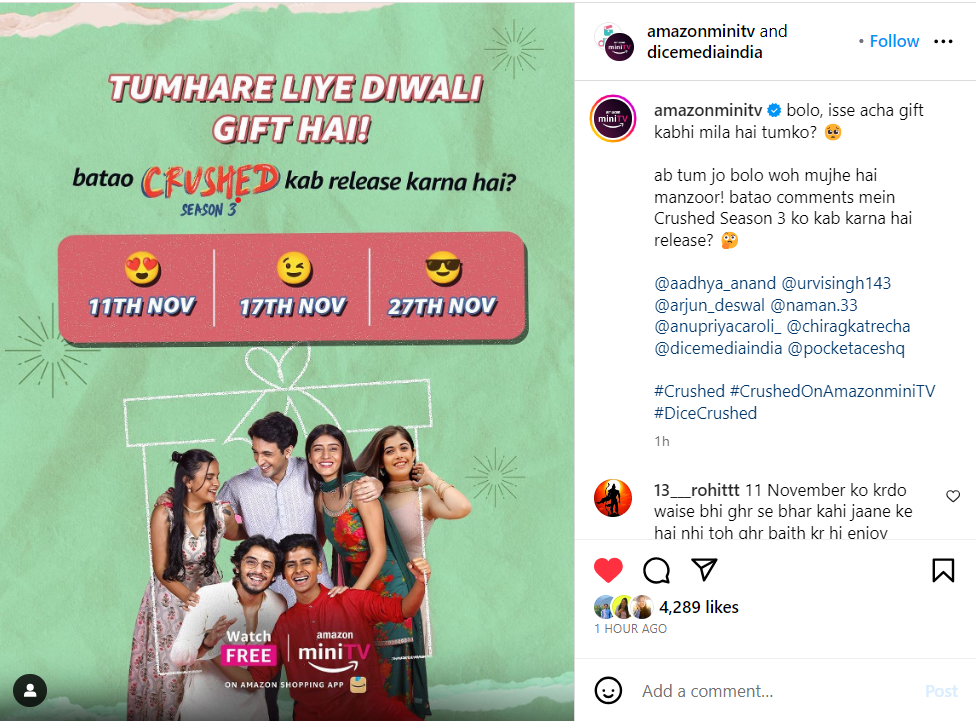 The conversation started on the platform's Instagram page, where Amazon miniTV presented its audience with three different dates to choose from for the release of Crushed Season 3. However, this exciting engagement was not confined to Instagram alone, as the question was taken live on various other popular platforms, including WhatsApp, YouTube community polls, and Twitter polls.
And the responses they got from a diverse range of viewers was nothing short of overwhelming, with hundreds of fans eagerly casting their votes to determine the release date for Crushed Season 3. The majority of the audience expressed their preference for November 11th as the chosen release date, because clearly the earlier, the better. In response to this enthusiastic participation, Amazon miniTV promptly released the trailer for Crushed Season 3, officially announcing that the show will indeed premier on November 11th, 2023.
The actors of the show, Chirag Katrecha, Arjun Deswal, Anupriya Caroli and Naman Jain expressed their excitement and said, "Finally miniTV heard the voices of its audience and have decided to take the show live on 11th November."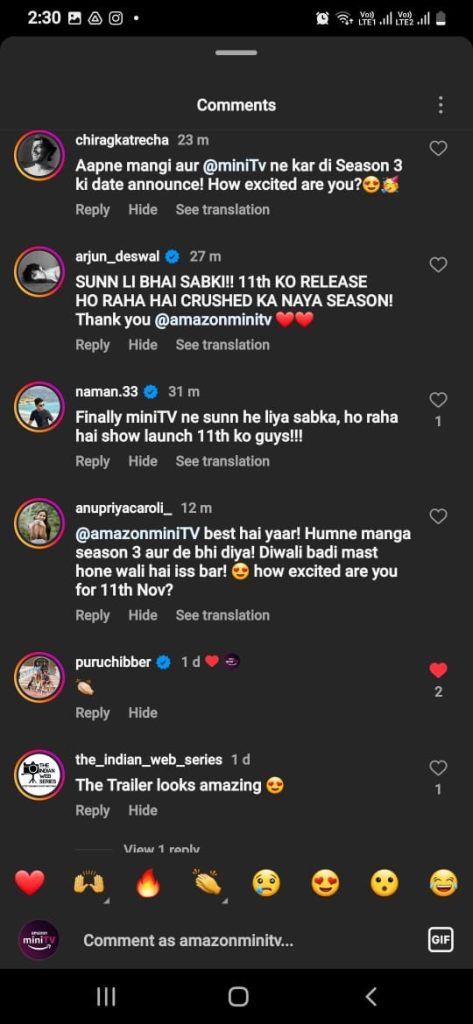 This groundbreaking engagement strategy, conceptualized and executed with SoCheers, has not only generated excitement and anticipation for the upcoming season but also strengthened the connection between the platform and its dedicated viewers. Amazon miniTV's decision to empower its audience by allowing them to influence the show's release date is a testament to the brand's commitment to delivering content that resonates with its fans.