New Delhi, November 16, 2022 : To celebrate the contribution and achievements of fishers and fish farmers and other stakeholders and reinforce commitment towards sustainable and equitable development of the Fisheries sector, Department of Fisheries, Govt. of India is organizing the Global Fisheries Conference India 2023, on occasion of World Fisheries Day. The two-day event will be held on 21st and 22nd of November 2023 at the Gujarat Science City in Ahmedabad with the theme 'Celebrate the Fisheries and Aquaculture Wealth'. This was stated by Union Minister of Fishing, Animal Husbandry and Dairying Shri Parshottam Rupala during a curtain raiser press conference at New Delhi today. Minister of State for Fisheries, Animal Husbandry and Dairying and Information and Broadcasting Dr. L. Murugan along with Secretary, Department of Fisheries, Dr. Abhilaksh Likhi were also present in the press conference.
Union Minister Shri Parshottam Rupala highlighted that the Department of Fisheries has invited foreign missions, experts, government officials, think-tanks, academia, international organisations, industry associations and other key stakeholders for the conference. Mr. Rupala said key organisations such as World Bank, FAO and countries have confirmed participation and they are looking forward to host them.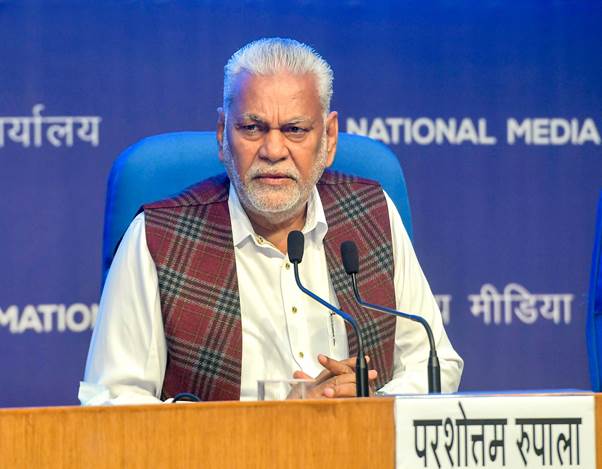 Union Minister Shri Parshottam Rupala also addressed the questions from the media regarding shrimp cultivation, fisheries infrastructure development, financial inclusion, promoting domestic fish consumption and way forward for sustainable development of fisheries. Shri Parshottam Rupala said that the Indian Fisheries Sector has shown a growth of inland fish production, export, aquaculture particularly Inland Fisheries that makes up for more than 70% of the fish production with cumulative efforts from Centre, States/UTs and beneficiaries in all fields. The Union Minister underscored that the fisheries sector has got the importance during the current government of Prime minister Narendra Modi over last 9 years and has achieved significant growth in terms of fish production and aquaculture sector.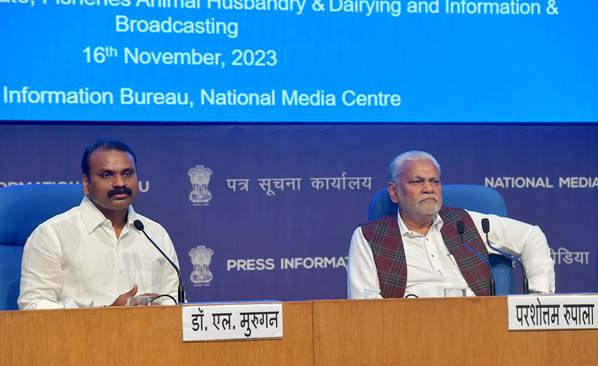 Dr. L Murugan informed that the Ministry has been focusing on sustainable growth and Global Fisheries Conference India 2023, which provides a platform for all the stakeholders such as fishers, farmers, industry, coastal communities, exporters, research institutes, investors, exhibitors to come together at one platform and connect for exchanging ideas, information on relevant technologies and market linkage opportunities. He further highlighted that the conference will also showcase the developments and government initiatives taken in the Fisheries sector such as Sagar Parikrama, PMMSY, fisheries infrastructure etc.
Union Minister Shri Parshottam Rupala also unveiled an event logo that symbolizes the Indian Fisheries Sector is achieving newer heights globally and significant contribution of the fishers and fishermen communities in nation building.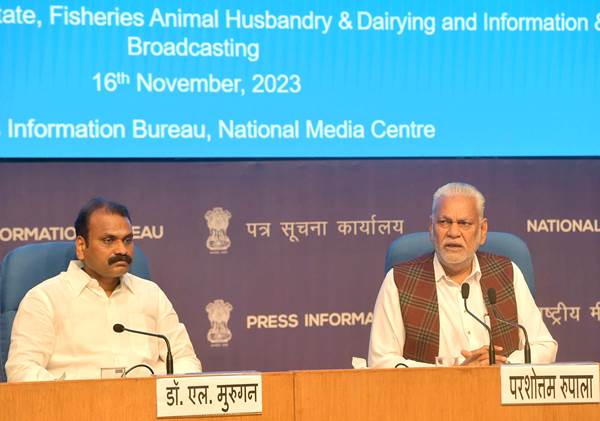 Fisheries sector is considered as a sunrise sector and has immense potential for bringing equitable and inclusive growth by economic empowerment of the weaker section of the society. With 8% share in global fish production, India is the 3rd largest fish producer, 2nd largest aquaculture producer, largest shrimp producer and 4th largest seafood exporter in the world.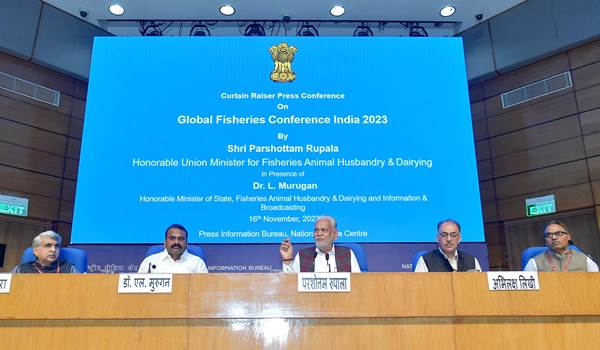 Indian Fisheries sector has been consistently growing and it has been the endeavor of the Department of Fisheries, Ministry of Fishing, Animal Husbandry and Dairying, GoI to sustain the progress in order to not only achieve PMMSY targets of 22 MMT fish production but also Rs 1 lakh crore exports by FY 2024-25. The sector has also been instrumental in providing sustainable incomes and livelihoods to Rs 3 crore fishers and fish farmers in the country.