New Delhi, November 19, 2023: The 2nd conference of the International Numerology Forum, held on November 18, 2023, at the Radisson Blu hotel in New Delhi, attracted the participation of 36 renowned numerologists from around the world, who joined virtually and physically to express their views on the key points of the conference.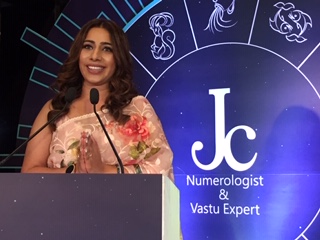 The event witnessed the 3rd edition of International Numerology Day, which falls on November 18, annually, to create awareness about the benefits of this predictive science among the public, was also celebrated today.
Dr. J C Chaudhry, founder and chairman of INF, delivered the keynote address during the event.
Accomplished numerologists who addressed the gathering and participated in the panel discussion includes: Mr. Mudigonda Gopikrishna, India, Mr. Pari Sagar, UAE, Mr. Amreesh Saxena, India, Mr. Abhinandan Kumar, India, Mr. Govind Vedaprakash Shandilya, India, Ms. Deepa Bajaj, India, Mr. Pradiep Siingla, India, Ms. Allison Rose, Australia, Ms. Ankkita Siingla, India, Mr. Richard Ong, Malaysia, Ms. Sandy Smith, South Africa, Ms. Munmun Aidasani, UAE, Ms. Patricia, USA, Mr. Yusuf Ahmed Baloji, Nigeria, Ms. Greer Jonas, USA, Ms. Katie Youers, UK, Ms. Garima Duggal, India, Mr. Tarunn Kwatra, India, Mr. Sanjeev Guupta, India, Ms. Rajasudha, India, Ms. Rashmi S Saraf, India, Ms. Deepa Arora, India, Ms. Julie Bengani, India, Ms. Saanvi Gupta, India, Ms. Charru Gupta, India, Ms. Stuti Srivastava, India, Ms. Jyotsana Bansal, India, Mr. Atullya Nimai Dass, India, Ms. Rashmi Mittal, India, Ms. Shilpa Aggarwal, India, Mr. Sanjay Sethi, India, Ms. Sweta S Sandhu, India, Ms. Beena Ingole, India.
The YouTube Live streaming of the event garnered hundreds of views from numerology enthusiasts, students, and professionals.
Talking about the International Numerology Forum, Dr. J.C. Chaudhry said, that this global initiative is expected to facilitate standardisation in numerology, and synthesise various streams of this ancient wisdom. The forum will strive to dispel misinformation and myths surrounding numerology by bringing forth empirical and experiential evidence, validated by investigations, on the impact numbers have on people's lives. The forum also aims to make numerology friendly to the people so that a normal person also feel interested to learn this science.